"The Cross" 91.7 FM Hannibal Missouri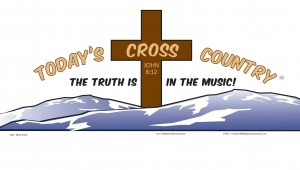 Today's Cross Country hosted by Marty Smith, features 1 hour of Christian Country Music. Each week features an interview with a Christian Country Artist.
Airs Saturdays at 8PM.
http://todayscrosscountry.com/
B. H. Clendennenwas an ordained minister of the Assemblies of God for fifty five years. In 1992, Br. Clendennen and his wife moved to Moscow, Russia and started the School of Christ. In 2 years, over 2,000 churches were started in Russia. In less than 18 years, the School of Christ has went into over 150 countries preaching the gospel. B.H. Clendennen can now be heard doing the School of Christ Monday's at midnight for the Midnight Cry Program.
In The Market With Janet Parshall In The Market with Janet Parshall is a live one-hour listener call-in program that challenges listeners to examine major news stories and issues being debated in the marketplace of ideas and speak to them with the Word of GOD. In this fast-paced, caller-driven program, Parshall will evaluate newsworthy topics with guests and listeners using the Bible as a framework for discussion. This program airs 4 to 5 p.m. CT weekdays and addresses relevant issues important to Christian believers, with an exciting mix of listener interaction and commentary from highly respected guests.
AFR Radio network
Americian Family Radio (News)


Unshackled
Real people…real life stories…stirring, dramatic accounts of hopelessness, and the hope that changes everything. "UNSHACKLED!" the award-winning radio drama from Pacific Garden Mission in Chicago, grips the heart with compelling and relevant stories of transformed lives.
With Host John Sentell visit
website
"You shall know the truth and the truth shall make you free" John 8:32.
The people who attend Times Square Church have an expectation to hear the pure and uncompromised Word of God and to experience his presence. Those who preach from this pulpit have sought the Lord through prayer and through his Word. There are five services each week. No sermon is ever repeated, and no program is followed, except what the Holy Spirit himself leads.

David Wilkerson
World Challenge, Inc was founded by Reverend Wilkerson in 1971. The ministry's mission is to promote and perpetuate the message of Christ through public teachings.
LIVING WATERS CHURCH of CHINO,CA – Pastor Duke Downs
We are a mission minded church that believes in praying, supporting, and going into all the world to PREACH THE GOSPEL.